Leveraging social media successfully means that you can divert countless visitors to your site, build your online brand promotion and push engagement. A shopper who had a favorable experience with your brand on social media will more likely recommend it to others. For a marketer, it becomes very challenging to remain on top of all domains be it social media marketing, consumer experience or advertising.
However, when you want to reinforce your social media campaigns, you do require something more… It is not possible to command social media without some exceptional marketing tools in your armory. Effective social media tools can provide you content curation, scheduling, analytics, publishing and help to stay productive.
This list comprising of the most resourceful social media marketing tools will aid in growing your brand online and using them in your day to day workflows will boost your results and impact all verticals. Let's plunge in straightaway into the most-used social media tools by the world's leading brands.
These are a few tools:
#1 Buzz Sumo
A tool that lets you discover the maximum shared content and influencers that are trending. You can utilize it to evaluate the best performing content for a particular topic and to get started you require to search for a domain or a topic.
BuzzSumo provides you better knowhow of your influence on social media and devises smarter content planning by viewing your own pages that brought greater engagement. BuzzSumo demarcates the results from Facebook, Pinterest, Twitter, and Reddit shares.
This provides an additional advantage as one can view the well-performing articles on the web without any monitoring of several social channels.
#2 Buffer Publish
A social media marketing platform, Buffer is designed to bring convenience for businesses and marketing units to evaluate performance, schedule posts and handle all their accounts under one segment.
To use Buffer is simple; After you link your social media accounts, you simply have to add your content, select which platforms you prefer the content to be published, and schedule it. Following which you add it to your Queue and the posts will be published by Buffer automatically on the date and time and also the platform specified.
Buffer also offers an active analytics dashboard for you to view your popular posts on social media and readily Rebuffer them to your queue. This analytics tool helps in getting main marketing insights with regard to every post which helps you to track the way your posts are faring and you can finetune your social media strategy based on it to deliver your best marketing punch.

#3 Google Trends
A totally free tool devised by Google for helping to search the topics that are trending online. Brands utilize Google Trends to track significant things occurring across the globe. Various professionals apply it as a means to explore and exchange information about the popular and happening events at this moment.
You can utilize Google Trends to check out the trending keywords and the way their present volume can be compared to its performance during the previous months and annually. You can apply such information to notify your content and social media marketing plans.

#4 Canva
An incredible tool which every online business should be acquainted with is Canva. On many occasions, social media managers and market professionals require stunning images without any designer. This makes marketers depend on Canva for creating attractive images. You can make use of the ready-made templates, illustrations, and icons to give a professional touch to your images without dealing with the real designing elements. Canva provides a simple to use drag-and-drop interface and contains a huge library of more than two million graphics components.
Canva has templates from social media images to business cards, marketing brochures, flyers, infographics, web banners to presentations. A wonderful tool that guarantees that your branding is consistent across all your social media platforms and also your website.

#5 Unsplash

A tool that is popular in the photography, design and video domain is Unsplash. It is a database of stunning, high-resolution, professional photos that are free for usage. These photos are much in demand with marketers as they lend a professional outlook to your content.
After finding the image which you want to apply, you can download it or store it for future use. Anyone can try those high-resolution, excellent images of Unsplash.

#6 Sprout Social
This tool works as a collaborative platform and allows you to find and forge smarter social communications. Some of its key features include building community by assisting you to start, join and retain your social conversations and lets you handle multiple social media profiles across several networks.
An all-in-one social media marketing tool, Sprout Social features multiple level access making it convenient for managers to organize and delegate work to team members. Further, it is packed with capabilities for full post scheduling, an elaborate analytics platform, and also a tool for social listening. This is beneficial for optimizing content and gaining an insight into the manner in which various demographics communicate on social media.
With a clean, intuitive interface, SproutSocial links all the primary social networks and collects your social messages in one location making it easy to handle and certifies that you respond to everything that is important. You receive an excellent analytics report for Facebook, Instagram and Twitter and the best part are that it also allows you to review the activity and engagement of your team members.

#7 Feedly
Feedly is portal news, posts and video aggregation software that supports personal users and teams with content feed matching and sharing tools using RSS technology. The Feedly smart reader lets you read the optimized digital publications, magazines and journals and also followed blogs and YouTube channels. Its Google Alert support offers notifications on keyword referrals for purposes of monitoring.
To install Feedly, simply add the RSS feeds of your preferred blogs and writers and Feedly creates a daily "magazine" filled with content and arranged by topic. Besides, Feedly keeps you in the know-how of the conversations taking place among niche influencers and helps to stay updated with the current trends in the industry. This aids in guiding your content planning and social media posting schedule. Different sources of various media can be systemized into more palatable feeds to be shared with colleagues and friends so as to arrange the consumption of like-minded write-ups while its shared boards promote collaborative article collection.
The remarkable aspect of this app is that it merges with scheduling tools such as Buffer and Hootsuite, so as to let you share and schedule posts directly from the dashboard. Further, it also preserves your time and energy sifting through social media posts to discover quality content.

#8 IFTTT

To gain the maximum from marketing its various components from content to social media plus email marketing has to work collectively. IFTTT ( which denotes "if this, then that") helps in building a consistent marketing strategy by automating various business functions. Integrating with different apps and software, IFTTT lets you create custom "Applets", that links various services jointly. You can fix your Applets to activate a particular band of responses when encountering a trigger ( to put in a different way, "if this happens, then that happens).
Like for instance, you may create an Applet " If I post a blog to my site, then post a link to my Twitter page." or you can frame it to despatch a tweet each time you create a recent Instagram post. Though slightly complex to navigate initially, but you can utilize other sets of instructions to plug and play. The best aspect is that it is totally chargeless and entails no cost.
At present IFTTT integrates with more than 600 services which include marketing tools such as MailChimp, Salesforce and Buffer. Besides, it also incorporates primary business tools such as Google Drive, Slack, and Dropbox.
Moreover, IFTTT also seamlessly merges with mobile technology such as Google Assistant and iPhone Reminders to give a spurt to your marketing drive.

#9 Hootsuite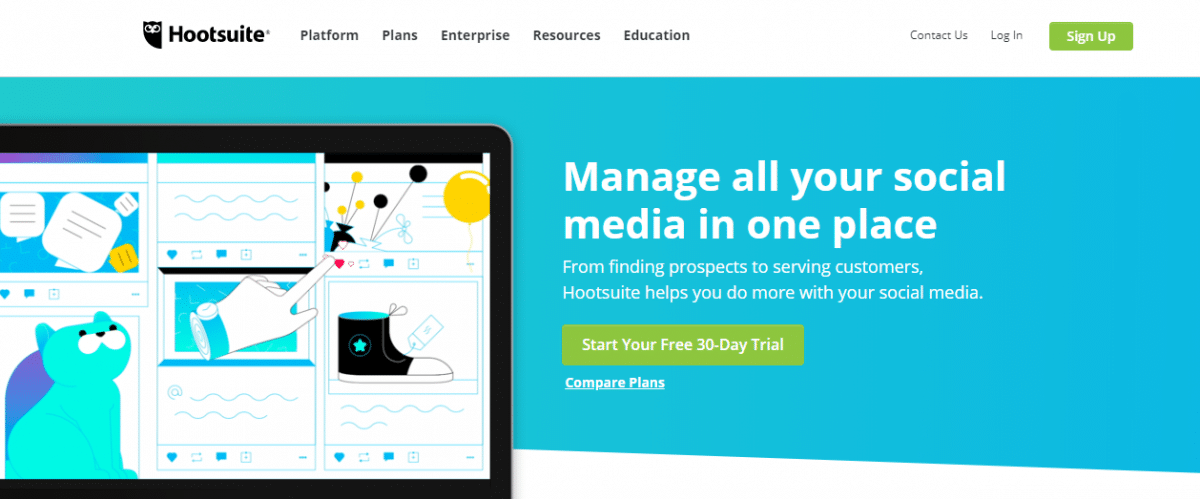 A social media marketing tool that assists in managing your social media accounts from one dashboard. You can conveniently search, schedule and handle your social media content with this simple application.
You can retain a powerful social media visibility by scheduling in one go hundreds of posts. Hootsuite safeguards your every password, profile and login details. You can arrange your content, save it in the cloud and Hootsuite ensures that the certified content goes live according to the scheduled dates and timings. For the general social media marketer, Hootsuite is an easy but efficient tool that schedules your posts in advance on multiple social platforms. In addition, the analytics allows you to gauge content engagement and know the performance of your campaign. Much in demand due to its social media tools being available for free, Hootsuite also contains comparatively inexpensive paid alternatives for enterprises and businesses.

#10 Animoto
Video is a remarkable way to engross the attention of your viewers, and Animato assists in such visual engagement. An online social media video maker, Animato produces informative and captivating marketing videos from the start. This application offers access to a vast stockpile of stunning templates, themes and also an assortment of stock music to add intensity to video. An extra giveaway is that Animoto allows you to add text overlays across your video. With eighty-five video ads watched without sound, Animato can be a critical marketing tool to stop you from scrolling.
Recently, only Facebook has made the transformation towards auto-play sound during news feeds as videos start and many platforms are bereft of this feature. Such video makers like Animoto should be a component of your social media marketing gameplan. Native video uploaded to Facebook has ten times higher reach of video links compared to that shared on external sites such as YouTube.

#11 Lithium
A resourceful social media marketing tool that assists businesses to connect with consumers effectively. Besides, aiding in automating your posting throughout different social media platforms, it also watches conversations with regard to your brand. This proves beneficial as you can be a part of such conversations and engage with your likely consumers more aptly.
Lithium lets you handle your campaigns, content, and feedback from one place. You can interact with your audience through their online communities and share the details they are seeking and require it. Lithium also aids brands to handle their engagement on various social channels, portals, communities, and mobile applications.

#12 Survey Monkey

SurveyMonkey is the most in-demand free online survey tool across the world and for better reasons. It lets you devise a detailed survey and direct them towards your desired audience through various platforms such as email, web, social media and mobile.
If there are particular questions you want to inquire from your audience, you can create a survey from the outset; you only require to type in the name of the survey, select a survey category and input the survey question into the application. Presently, the free account provides unlimited surveys with every survey being confined to ten questions.
At present SurveyMonkey contains more than 100 templates and 2500 questions drafted by specialists to select from. Once you have built your survey, SurveyMonkey lets you customize the appearance and experience of your survey by including your logo and design theme that aligns with your branding. After the survey is designed, you can select the manner in which you would prefer to despatch your survey and gather feedback. All that remains, in the end, is to drive it towards your audience and lie in wait for the feedback to arrive. You receive information directly from the consumer's mouth and can utilize it to bolster your marketing endeavors and push real results.

#13 Mention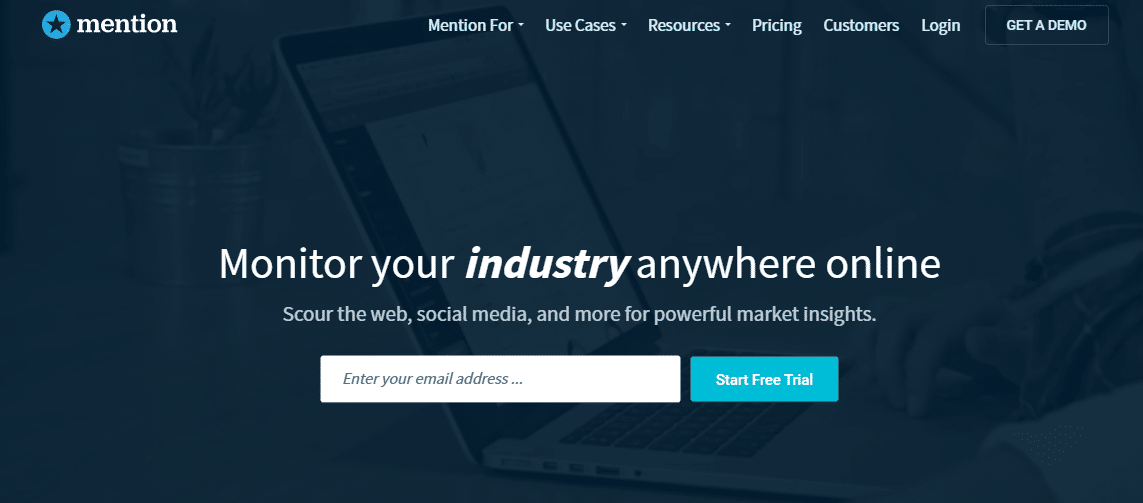 Monitor your business online through the marketing insights platform Mention which is devised to offer real-time tracking of social media and net content. Mention extends brand mentions from all over the internet, and also keyword and competitor evaluations.
This tool instantly gives you notifications associated with your marketing plans and campaigns, making you respond instantly to changes. Mention also informs you when your social media content has turned viral and also when your rivals are making headway.

#14 Nuvi
Our suite of collaborative, creative, and analytical solutions allows you to meet your audience where they live online. Understand them more powerfully and accurately with an industry-leading Language Engine, then strategize to engage with them more intentionally. Start creating a more cohesive customer journey and increase your revenue year over year.

#15 Sendible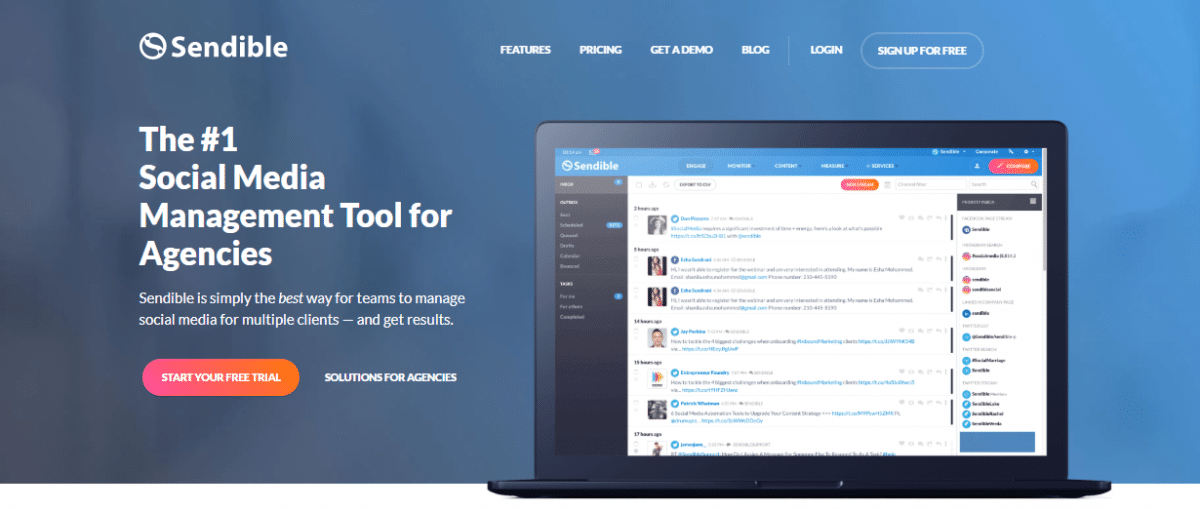 If your team manages social media for various clients then Sendible is the perfect tool for you. With unique boxes for every brand, which can be accessed by your team member, communication remains fine-tuned. They provide a content engine that indicates new material depending on the topics of the profile and your user base. Their calendars are entire. interactive, allows you to schedule updates, track social engagement and gauge your results.
It is compatible with Twitter, Google+, Facebook, Pinterest and publishing websites.
You can post updates to several networks from the same 'compose message box, as in Hootsuite. Another feature akin to Hootsuite is the way you can choose to get your updates automatically published around the time they regard perfect for driving engagement and outreach. Moreover, it also integrates with Google Analytics so that you can view the way in which your social media and email campaigns are incrementing your website traffic.
The RSS Auto Posting function of Sendible posts pertinent content at regular intervals all through the day, so that you are always offering terrific content for your audience to remain engrossed with. If you run a blog, Sendible will share any new posts automatically to your social sites. A cool feature of Sendible is that it displays your previous conversations with users which is great for tracking new leads and better the chances for conversion.

Conclusion
After putting forth your marketing strategy, you only require to select the best tools that achieve results. Your goals of social media management will be meted by these tools by managing your social accounts in less time, creating impactful social media campaigns, offering detailed reports of your activity on social media, and making it more convenient to handle your multiple accounts. Implements these social media marketing tools and place your brand in front of the right audience, drive engagement, brand identity, and business revenue and manage result-driven marketing campaigns.