Creating regular backups for your business is one of the best things that you can do to improve the security of your website. Backups can save your data from any kind of catastrophic situation. It will also give you a feeling of confidence when you know that your data is in absolutely safe hands.
There are various plugins available for you to take a backup of your data and restore them when required. In our article, we have shared some of the best backup plugins for you which you can use in your website to take regular backup of your data.
#1 UpdraftPlus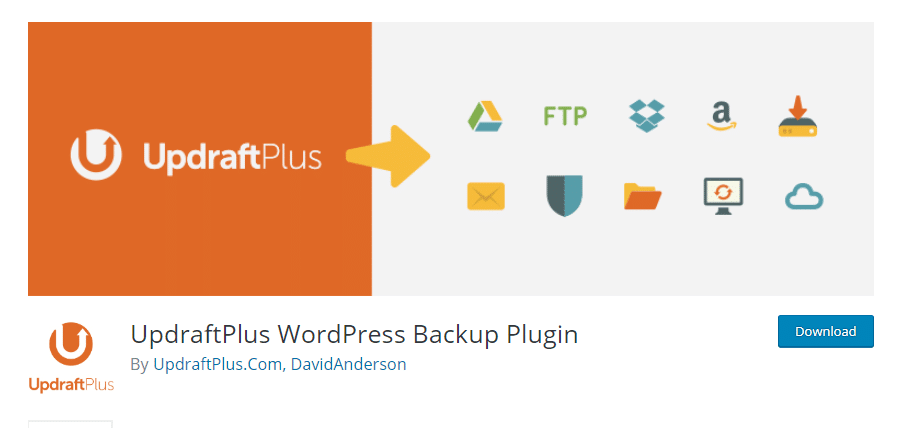 Updraftplus is one of the most widely used WordPress plugins which is available on the internet. It has over 2 million users and can be used to create a backup for your WordPress site. The data will be stored on the cloud or can be directly downloaded to your computer. You can go for on-demand backups as well. You will have the choice to select the files which you wish to backup.
Updraftplus has other features as well. It allows you to easily restore the data from your WordPress admin panel. You can automatically upload your backups to Google Drive, Dropbox, etc. The premium version has various other advanced features as well like multisite support, database search and replaces, migration or cloning of websites, etc.
#2 VaultPress
VaultPress is used to create a backup of your website. It was founded by Matt Mullenweg and his team. Initially, VaultPress was an independent plugin but now it is used with Automattic's Jetpack. You need to have a Jetpack subscription in order to use this plugin. There are various pricing plans.
VaultPress allows real-time cloud backup solution where you will be able to store all your data
It is also easy to restore the data backups from your database. The higher package plans offer security to your data as well. However, VaultPress is quite expensive and you will have to pay for each website if you have multiple WordPress websites. Also, the backup is stored for 30 days only in case of lower plans.
#3 BackupBuddy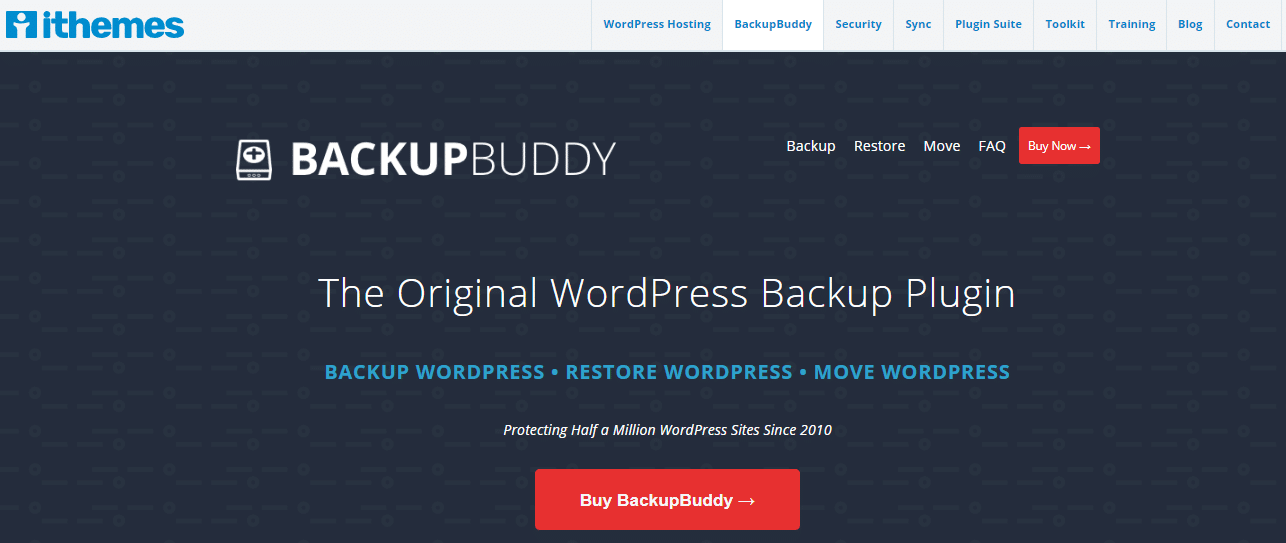 BackupBuddy is a very popular WordPress plugin which is used by millions of customers all across the world. It allows you to schedule your backups. The backups can be daily, monthly as well as weekly. You can automatically store your backups in various cloud platforms like Amazon S3, Google Drive, Rackspace Cloud.
BackupBuddy can be used to do real-time backups as well. One of the biggest advantages is that it is not subscription-based. As a result, you will not have to pay any fee. You can use this on any number of websites you wish to. This plugin will give you access to the premium support forms. You get an additional 1GB Backupbuddy storage added to your backup system. It can even be used to migrate and restore websites.
#4 BoldGrid Backup
BoldGrid Backup is a WordPress backup solution which was founded by BoldGrid. It is extremely easy to use and helps you to create backups for your data. BoldGrid Backup will safely store all the data of your website even if your site crashes. You will also be able to restore the data which has been recovered earlier.
BoldGrid Backup has automated fault protection feature which keeps your data absolutely safe and secure. It is also quite easy to use and protect your data from any kind of update error. You can store up to 10 backup archives. This tool supports schedule backups. The data gets directly stored on cloud platforms like Amazon S3 and FTP. BoldGrid Backup has various pricing plans and subscriptions.
#5 BlogVault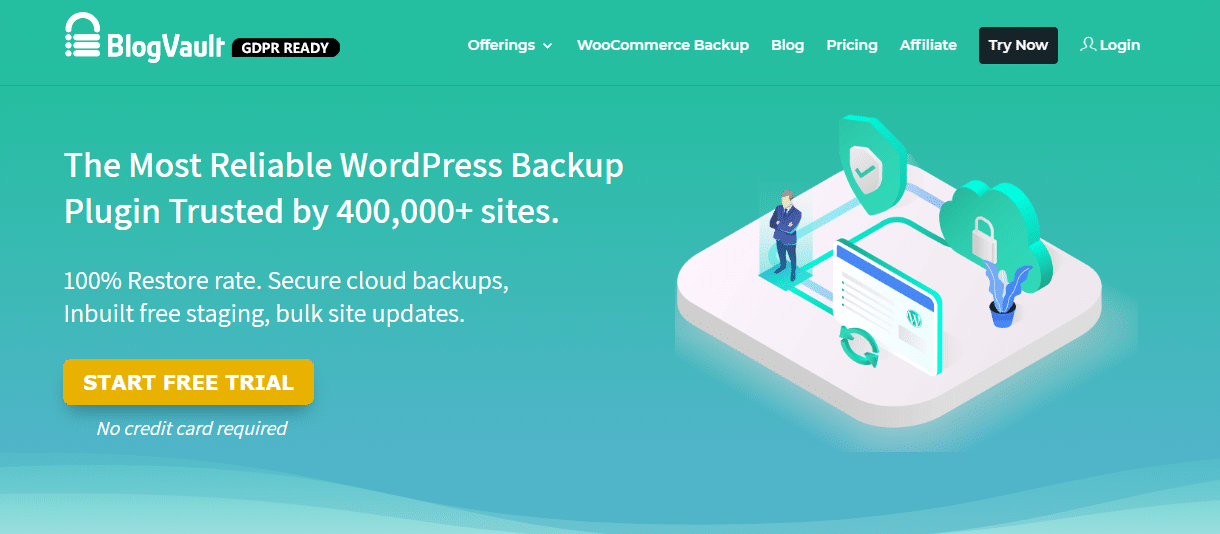 BlogVault is a WordPress backup service which is a software as a service platform and not just a plugin. BlogVault allows you to create offsite backups independently and hence, it does not provide any load on your server. You can create daily backups automatically. You will also be able to create on-demand features using this website.
There are various built-in staging site features that allow you to test your website on a regular basis. You will also be able to migrate your website to another host. BlogVault is a very promising plugin and is extremely easy to use. It has various subscriptions. Each pricing plan comes with a set of different features. The pricing is, however, a bit high for small scale businesses.
# 6 BackWPup
BackWPup is a plugin which lets you create a complete WordPress backup and store the data on cloud services like Amazon S3, Dropbox, Rackspace Cloud, etc. This plugin is extremely easy to use and you will be able to schedule automatic backups according to your own requirements. The number of backups depends on the frequency of updates of your website. Restoring the data is also quite simple. You will need a standalone app to restore all your data with ease.
BackWPup plugin is actually free of cost but it has a premium version also. The premium version has various features like priority support and the ability to store the backup on Google Drive. Today, BackWPup has thousands of satisfied customers and it is being used by over 6 lacs websites.
#7 Duplicator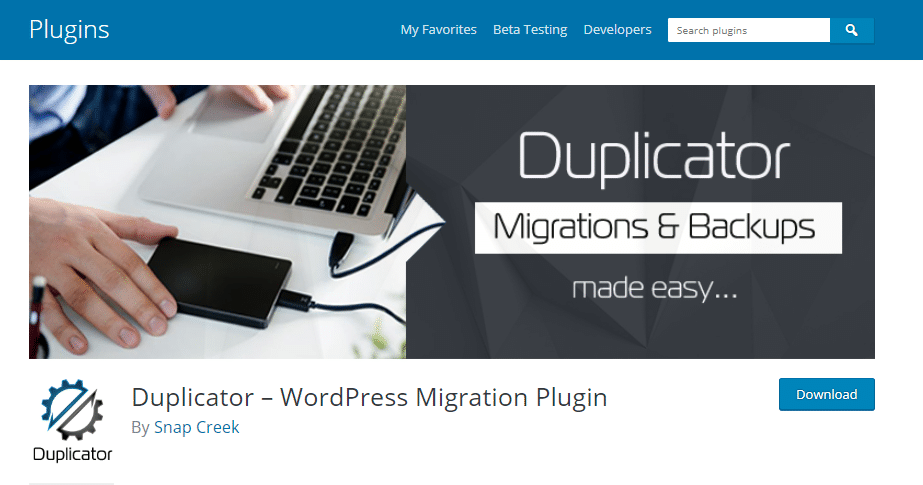 Duplicator is a very popular WordPress plugin which is basically used to migrate WordPress websites. It also has a backup ability. However, Duplicator will not allow you to create an automated backup which makes it a little less ideal for a WordPress backup plugin.
You will be able to create manual backups of your website. You can also use this plugin for the staging environment. Duplicator is an extremely good plugin for site migration. It has various pros and cons. Two of its most important features are its real-time incremental backups and ease of use. This means that you will be able to create a backup of your files and folders within just a few minutes of the update. This plugin is mostly used by small scale businesses.
Best Keyword Rank Checking Tools For Bloggers
Which plugin has the most number of features?
All these plugins will allow you to take a backup of your data. You will be able to restore your data as and when required. Each of these plugins has its own set of features. Which plugin do you think is most effective in taking a backup of your website?