If you have a website that relies on revenue from traffic, then it is very important for you to track specific keywords. These keywords will help you to understand how well your business is running and will also let you develop different marketing strategies to further enhance your business.
For that, you need a tracking tool which can monitor the keywords regularly and give you detailed reports. Here we have hand-picked some of the best rank tracking tools for you which are not only easy to use but will also give you detail report regarding the rankings of your keywords in a graphical format.
#1 SERPWatcher

SERPWatcher is an extremely effects tracking tool which is not only effective but is also extremely easy to use. This tool has excellent tracking capability. You can import keywords from KWFinder. The online dashboard displays the rank tracking data into columns. You will also be able to see the tracked keywords and search volume. The overview option will show you the current position of a keyword and how much it has changed with time. The time frames will compare the current position of your keyword with three previous periods.
SERPWatcher has various essential features which are extremely useful. It contains charts to display the estimated visit per month and the keyboard position distribution. SERPWatcher provides interactive online tracking report instead of PDF files. It also has an automatic alert and report suite. You will be able to distribute the reports through your email. You will also be able to send weekly, daily and monthly reports. The pricing is also not very high. Overall, SERPWatcher is a very effective tracking tool and can be used for multiple purposes.
#2 SEMrush
SEMrush is basically an all-in-one marketing tool which provides functionality for rank tracking as well. The position tracking tool will help you to monitor your search engine positions for any keyword. The data will be updated on a daily basis to show the ranking of your keyword. You will be able to keep track of the keyboard ranking on a daily basis. The users will be provided with an online dashboard which will display all the important information before you.
The overview tab will show the domain's visibility and the estimated track. You will also be able to see the progress made by your website. The reports and alerts will be sent to you regularly. The PDF version of the reports can also be downloaded from the dashboard. The price is quite affordable. There are different kinds of subscription plans based on the volume of the selected keywords. You will be able to export your report. SERPWatcher also allows branding facilities and you will be able to add your name logo and contact details to the report header.
#3 SE Ranking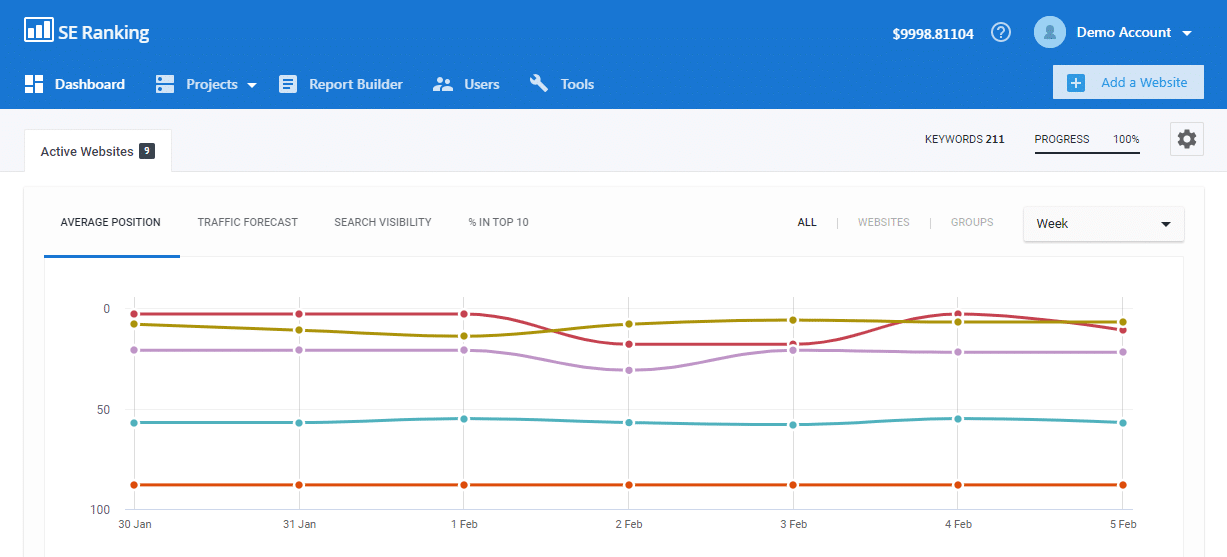 SE Ranking is a complete search engine optimisation tool. Initially, it was just a keyword rank tracking platform. Today, it has various other facilities like competitive research keyword, backlink monitoring, etc. SE Ranking has very good tracking capability and it will is also able to monitor the real-time position of the keywords of your website in the language chosen by you. You will also be able to track desktop and mobile devices as well as Google Maps.
SE Ranking will allow you to monitor up to 5 competitors. You will be able to check their ranking and their position. The online dashboard gives you a clear view of the rankings of each of your keyword. SE Ranking also makes it possible for you to switch between ranges, periods and views. This tool is extremely easy to use and there are plenty of options available to display your data in a systematic way. It provides fantastic reporting facilities making it possible for you to display your name and logo on your report. You may also add extra comments to different sections of your report.
#4 Advanced Web Ranking Cloud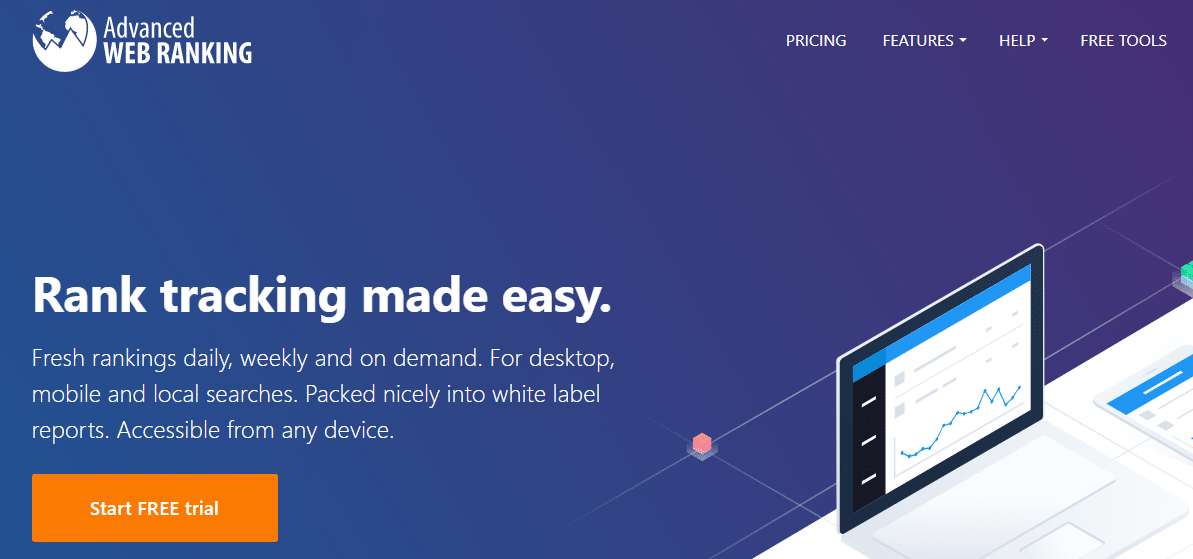 Advanced Web Ranking Cloud or AWR cloud is basically a rank tracking and reporting system which is capable of producing daily weekly and monthly update. It will allow you to customise your tracking location so that you will be able to see your keywords ranking from within a particular location. The users will also get accurate local results to know their rank in the local areas. Advanced Web Ranking Cloud allows you to receive tracking results from clients belonging to other countries. It will also show you detailed information regarding your keyword.
Advanced Web Ranking Cloud has excellent reporting and alerting facility. You will be able to display your company's name on your report along with the company's logo. Advanced Web Ranking Cloud also enables you to customise the look of your reports by changing the location of the header, rows and columns. Once you have created the layout of your report, you can schedule them to be delivered each week or each month. The report can be delivered in PDF, HTML or in CSV format.
#5 Ahrefs

Ahrefs is a new rank tracking tool. Initially, it started as a backlink analysis tool but now it has become an all-in-one SEO tool. Ahrefs has very good tracking facilities. You will be able to configure the rank tracker. You can add selected keywords and based on that, you will be able to see the ranking of your keywords, Ahrefs is quite handy and enables you to upload your own TXT/ CSV file. The users will also be able to add the location to track at city, state or country level. You can also assign a language.
You will be able to add 5 competitors and check their progress as well. The online dashboard is packed with features. You can show the graphical representation and also detailed report of your keywords. The overview dashboard has five progress bars so that you can view the overall ranking progress of your keywords. The visibility graph will show you the percentage of possible traffic. The overview tab helps to summarise the reports generated. You will also be able to compare the visibility and position distribution data using Ahrefs.
Hence, these are few of the best rank tracking tools which are currently being used in the market. These tools are extremely easy to use and are packed with different kinds of features. The reports created using this tool are also quite eye-catching and easy to interpret. Which tool do you think is the best?