A social community network is important when it comes to making everyone available at the same place to discuss some kinds of stuff. So, if you are also creating your own social network community on WordPress, here are the top 2 Ning alternatives for that you can choose to build your own online social community.
Want to build your own community on WordPress without coding? Now creating your own customized social network with unlimited members is in your hands. And, the best part is that it doesn't require you to learn to code.
1. BuddyPress
WordPress users who don't want to get their hands into a little bit of code may favor BuddyPress. It is an open-source WordPress Plugin that offers users the ability to create their private social network including profiles, groups, forums, and send private messages to all the community members. Building a modern and feature-rich community is now possible for WordPress users with BuddyPress.
Hence, no doubt in saying that BuddyPress is a powerful community plugin for WordPress. Use it and take your site beyond the blog. Whatever features you want to have in your online community site, it includes all of that like user profiles, groups, activity streams, notifications, and more.
What about the Look of your BuddyPress Social Community?
Although BuddyPress has made it a lot easier to create a private social network without going into complex code, there is something that you're missing. And, that's an eye-catchy and interactive look that every community site should have to grab the attention of the audience.
And, that's where "Reign BuddyPress Theme" plays an important role!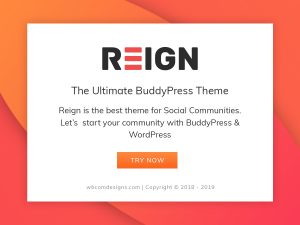 When combines with BuddyPress, Reign BuddyPress Theme can add a beautiful touch to your online community site making it more attractive and compelling to your community members.
Reign comes with varied layouts with easy, quick, and one-click import structured templates which makes it easy to work on WordPress.
Reign BuddyPress Theme is an ideal solution for
Community Site
Social Network
E-commerce Marketplace
LMS (Learning Management System) Site
2. PeepSo
PeepSo is another free WordPress plugin that helps you create your social network on WordPress without going down into deep with coding. PeepSo is a free and light-weight social network plugin for WordPress. It allows you to quickly add a social network, similar to Facebook right inside your WordPress site.
Here are some crazy features of PeepSo you'll get by integrating it with your WordPress site-
All community members can Users can set their own avatars and cover images
The Profile option comes with many custom fields.
Users can set their notification preferences.
It's a fully responsive design
A community can create groups for focused discussions
What about the Look of your PeepSo Social Community?
What about the style and look of your PeepSo powered online community? When your community members are not engaging with your online community, your all efforts are just good for nothing.
That's why it requires something that can give it an interactive look and "Reign PeepSo Theme" is the perfect solution for it.
Its unique design and cool functionality make it apart from all the social community themes for WordPress. Being a perfect solution for WordPress social community website, it meets with unlimited possibilities like
It has provided you with inbuilt support for PeepSo and its premium add-ons. You can use them to create your community site like Facebook easily.
Moreover, you can create a directory within your community site with Reign addons for WP job manager and GeoDirectory.
If you want to add a social marketplace to your community, you can do so with Reign PeepSo theme easily. It supports Easy Digital Downloads and WooCommerce Plugins.
You can build a community site for WordPress social learning using Reign LearnDash Add ons.
Ready to build your private social network?
In short, there are lots of ning alternatives to create a site like Facebook. Among them, BuddyPress and PeepSo are the most popular plugins for WordPress. Try it with a unique style of reign theme and make your site featured with cool functionality.
Need support with expert web developers? Reach us at Wbcom Designs. Our expert professionals are always ready to serve you with the top quality web development services.