Planning to sign up for MilesWeb's managed WordPress hosting plans for your website? In this article you will learn about their WordPress hosting plans and the features that this leading web hosting provider offers.
MilesWeb is popular for offering web hosting at cheap prices. No it's not that prices are cheap and so you will need to compromise with the uptime and security of your website. They have considered all the essential factors for the website and still offer lowest prices in comparison to other providers.
Unbelievable right? Therefore, I have written this complete review of MilesWeb for you. This article covers the features, prices, performance and support offered by MilesWeb when there is any technical error on your website. Let's check about them in brief first.
A Brief About MilesWeb
MilesWeb was founded in 2012 by three folks that have in-depth knowledge and experience in the web hosting industry.
The company aims at serving every small business owner with an effective web hosting solution at reasonable prices.
Their support team is the strongest pillar and comprises of experts with great knwoeledge about Linux as well as Windows platforms, their administration, cPanel and Plesk control panels, website migration, virtualization technology and so on.
Their wide range of web hosting plans covers almost all types of websites. For instance, if your website is just a startup then you can opt for their shared hosting plan. For an ecommerce website, their Magento hosting plan powered by LiteSpeed and LiteMage is the best. For reselling web hosting services, you can select their reseller hosting plan. In this way, they have a hosting solution for every type of requirement. Other web hosting solutions offered by them are VPS hosting, dedicated servers, managed DigitalOcean cloud, managed AWS cloud hosting, SSL certificates, GSuite, SpamExperts and Office 365.
MilesWeb sponsors the biggest WordPress community-organized conference called as WordCamp,. They participate in every WordCamp event help in India. A large number of WordPress users/ developers attain this event, network and socialize, participate in presentations, attend workshops and more.
In case you are new to web hosting, check this introduction video that will help you know what is required to build your online presence:
Why to Select MilesWeb WordPress Hosting?
Fully Managed WordPress
They are popular for their optimized WordPress hosting. All the heavy lifting server management tasks are done by them so that you can get the time to focus on growing your business. Their WordPress experts handle the technical stuff, server optimization, WordPress updates, tweaking PHP versions and monitoring.
Free WordPress Migration
Planning to migrate your website/blog to their servers? They will do it for you at your convenient time. You don't have to pay extra for the migration. Get your website migrated for free. All your data is safely migrate to their servers. 
Built for Performance
Their managed WordPress hosting plans are built to offer high-performance and faster page loading speed. The plans are based on the latest Intel Xeon processors with SSD storage and hardware RAID 10.
Support
Customers are the top-most priority for MilesWeb. You get 24/7/365 support via live chat and email. This shows that their support team is always active. Real persons answer your queries and not the chatbots. They interact with you all round the clock. Moreover, they have huge knowledgebase, forums, blogs and videos so that you can gain some extra learning. Their team helps you resolve your queries as well as advises some best practices for boosting your website performance.
Highly Reliable
It isn't possible for any web hosting provider to offer 100% uptime. You can avoid the circumstances such as floods, earthquakes, storms, etc. or can't perform server maintenance.
Hence, a few seconds downtime is considerable. But to keep your site up and running for the maximum time, MilesWeb guarantees an uptime of 99.95% with the help of its Tier-3 and Tier-4 data centers.
Transparency
No doubt they promise to deliver the best web hosting services and also, understand that due to any reason, you may not want to continue with their services. So, MilesWeb allows you try their services without any risk for 30 days. They offers a 30-day no questions asked money-back policy.
Other Managed WordPress Hosting Features
Free Domain

Automatic WordPress Updates

Fast SSD Storage

Free SSL Security

WordPress Preconfigured

Fast Provisioning

Secure Email

Datacenter Choice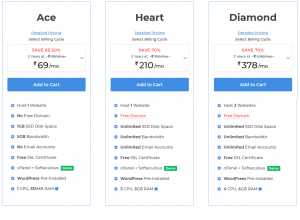 Customer Reviews
Final Words
MilesWeb WordPress hosting plans offer excellent features at a great price. With their WordPress hosting plans it is ensured that your website is secure, always fast and available all the time.
You get their managed WordPress hosting plans at just a price of burger and those comprise of SSL, CDN, SSD storage, GZIP/Brotli Compression, Caching, WP-CLI, Cloudflare Railgun, Automatic WordPress updates and so on. This saves your tension as well as precious hours of managing the server.
MilesWeb's managed WordPress hosting is a great choice if you want to buy budget-friendly and feature-rich managed WordPress hosting. Also, you don't have any risk in trying out their services their services as they have confidence about their hosting services because they offer a 30 day refund policy.
Interesting Reads