Are you looking for an option to show all the important activities at the top of the BuddyPress Activity List?
By default, BuddyPress does not allow you to prioritize any activity or pin important activities on the top. It shows the newest activities by default so a user has to scroll down to find the important activities which sometimes becomes a tedious task.
That's when BuddyPress Sticky Post comes to play. In general terms, a sticky post refers to a post that sticks on the top of a particular page such as BuddyPress Activity Page. It stays pinned on the top until you unpin it or remove its sticky feature. In today's article, we will tell you how to easily make a post sticky in BuddyPress website.
Importance Of Using A BuddyPress Sticky Post?
A sticky or pinned post/activity is important as it is helpful in highlighting the important content on your site. With its help, you can feature the best activities on your BuddyPress activity feed regardless of on what date they were posted.
A sticky post also becomes helpful as it:
Improves engagement in your community by driving traffic to your site: With the help of sticky post, you can pin relevant blog posts, updates, activities or some other information on the top of activity page thus increasing user's engagement and driving more traffic to your community.
Promoting Events, Contents and Giveaways which have an expiry date: If you are planning to run a contest, giveaway or promote any event which has an expiry date, the best way to promote them is to pin them on your community till the particular date and remove them when the date is over.
Promoting your products or services: With sticky posts, you can also promote your products or services if you have a business community and want to get the attention of your prospective customers.
Letting your members know about any important updates around the community :
There are many important updates that your community members need to know about your site. If you also have such updates and don't want your members to miss it, just pin it to the top for your members to notice.
Making Sticky Post In BuddyPress
To add a sticky post feature to your BuddyPress website, you will be required to install BuddyPress Sticky Post plugin that allows you to pin-up site-wide and groups activities to the top of BuddyPress activity list and groups.
To install the plugin, you can see this step by step guide on How to install BP Sticky Post.
Once the plugin has been installed, you can first configure its backend settings which include:
General settings:

This setting offers two options that you can opt to change the label of pin post label and unpin post label.
How Admin Can Pin Posts?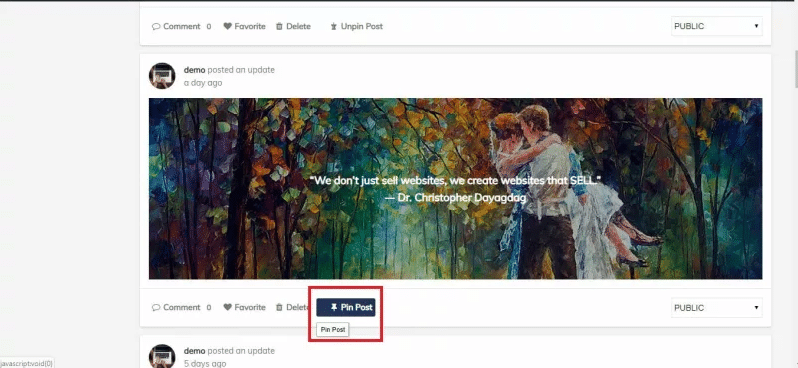 Once all the settings have been configured, an admin can pin and unpin posts or activities on the top. He can pin posts by navigating to the activity page or single group page. There he will get an option of "Pin Post" beneath each post on BuddyPress activity page and the activities of the group separately.
How Admin Can Unpin Posts?
Just like pin post, an admin will also get the option of Unpin Post" below each post on the BuddyPress activity page and the activities of the group.
See the plugin live in action:
We hope now you have learnt how to make BuddyPress activities sticky and will use this addon to improve your site's traffic. If you have any suggestions for us, let us know in the comments below.
Interesting Read: Add Social Share Buttons In BuddyPress