Do you want to customize your BuddyPress feed to offer an incredible browsing experience to your visitors?
By default, BuddyPress offers a separate type of activities for the BuddyPress activity stream. Due to this all the activities happening in your community are shown under different respective activity options. In this article, we will tell you how you can create a customized newsfeed experience on your BuddyPress website.
The Benefits Of A News Feed
If you have a social media account like on Facebook, you must have seen a newsfeed offering the latest and greatest updates from around Facebook at one place.
Newsfeed usually displays all the activities that are happening around the web. Similarly, when you have a community website, your newsfeed will show all the activities that are happening around the web such as post status updates, friend connections, likes, comments, group joins and more. A customized newsfeed makes it easier for members to find various activities as well as offers fresh content as well.
Here are various benefits of having a newsfeed in your community:
1. Fresh content:
A news feed showing content from various sources shows fresh content regularly which is beneficial for your search engine ranking. A customized newsfeed offers you the power to decide what you want to show to your site members. Populating stories with your choice can significantly help in overall SEO strategy.
2. Higher Engagement:
A customized newsfeed also engages more and more users as users can find every information at one place only. Moreover combining and providing an aggregate page to the members where they can see all the activities is also user-friendly.
3. More control:
The core purpose of creating a customized newsfeed showing an aggregate of all activities performed around the social network is to give more freedom and control to the users over the platform and showing them the information that is relevant to them.
Creating A Customized Newsfeed On A BuddyPress Website
As discussed above, BuddyPress provides a separate type of activities for the BuddyPress activity stream. This means all the activities happening around the community such as activities, post updates, mentions, favourites, group activities and more are shown under different respective activity options. This does not create a positive engagement on the site members as they have to visit each section separately.
In order to help you show an aggregate of all the activities and show them in one customized newsfeed, you will have to install BuddyPress Newsfeed Plugin.
To install the plugin, you can see this step by step guide on how to install BuddyPress Newsfeed plugin.
Once the plugin has been installed, you need to configure its backend settings by navigating to Dashboard> WB Plugins> BP Newsfeed. Here you will find the general settings of the plugin that include: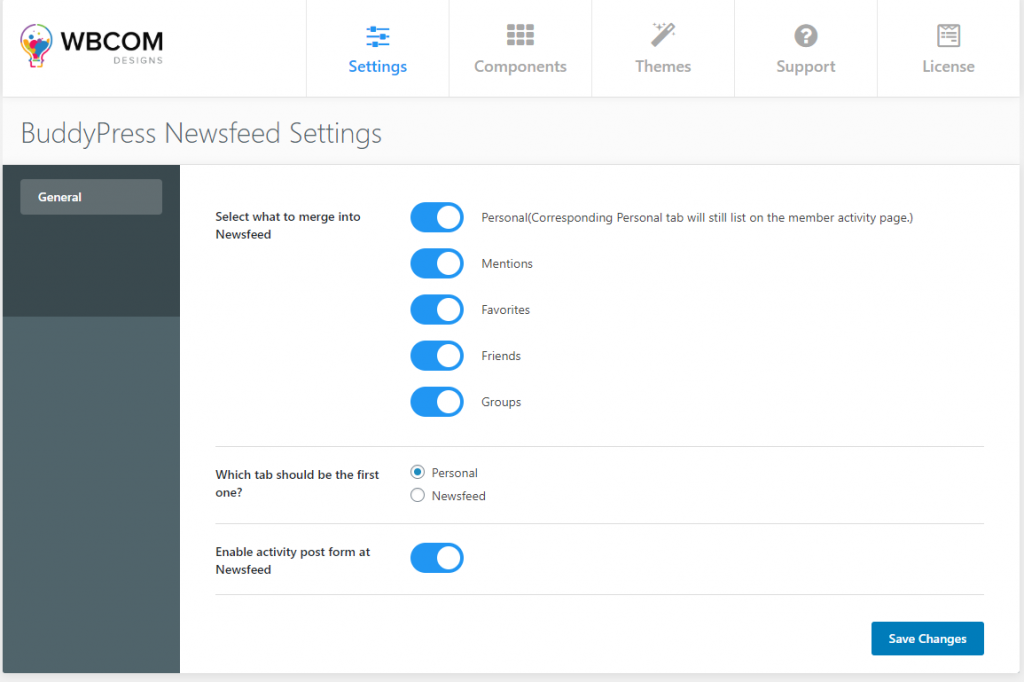 Selecting what to merge into newsfeed: This setting allows you to select which activities you want to merge into the newsfeed.
Enable activity post form the newsfeed allow you to also post directly from the newsfeed section in the frontend.
Front-end view:
This is how the plugin will work in the front-end. A new tab called Newsfeed will appear that will display all the selected activities at one place.
You can also segregate your activities from that of your friends by showing a separate tab called "Personal" for only your activities.
See The plugin live in action:
We hope you liked this article on BuddyPress Newsfeed. If you have any suggestions for us, let us know in the comment section below.
Interesting Read: How To Add Polls Feature In BuddyPress Website?