Do you own a BuddyPress community website and want to add privacy features to it? If you own a social networking website, adding privacy features to it is the most important step towards gaining your member's confidence.
In today's article, we will tell you how you can add privacy features to your BuddyPress website and keep it safe from spammers.
Importance Of Privacy For A Community Website
Social networking websites like Facebook offer a variety of features to users to express their opinions, talk with other members, send them friend requests, join groups, share status updates and a lot more.
People nowadays love to share what they are doing, what they love with other people around the world.
But not everything is safe when it comes to a community website as there are people who are willing to steal your information and post spam stuff on such social media accounts. Therefore, to keep your details protected from such spammers and fake users, it becomes essential to secure your community by adding various privacy features.
Moreover, community sites like Facebook, Twitter, Instagram and others follow strict moderation and privacy policies in order to make all the data of their members safe. Hence, a social networking website built on BuddyPress also needs to be kept private to tackle such online vulnerabilities and spam.
Here are some advantages of keeping a BuddyPress community private:
1. A private community or a community with privacy features allow your community members to choose what they want to share and with whom they want to share their updates.
2. A private community also keeps member's information away from non-logged out members and Google search.
3. Moreover, as a community, privacy helps us stay protected as individuals and as entities.
4. With appropriate privacy features, your community members also feel protected thus increasing their trust in the community. Moreover, privacy also increases your user's site engagement.
Adding Privacy Features To Your Community Website
When it comes to managing your BuddyPress community website, there are many factors you need to consider. Just like Facebook or Twitter, a BuddyPress website requires strict privacy policies as it also consists of member's data that needs to be kept private from other such as member's profiles, groups, activities, messages and more.
Thus, it becomes important to lockdown such components from spammers and any logged-out user.
To do so, you would be required to install and activate BuddyPress Private Community Pro which is a fully dedicated BuddyPress add on and offers full privacy control for your community website.
You can see this guide on how to install the plugin?
Once the plugin has been installed and activated, you will be required to configure its settings. The three major restrictions that this plugin provides include:
Settings for Logged-Out Users:
In a BuddyPress community, all the components especially member's page can be accessed by any logged-out user and also appears in Google Search. Thus, this plugin offers settings to restrict content from users who have not logged-in to your site. These include:
Locking BuddyPress Components
Selecting Components to lock
Locking custom post types and pages
Setting restriction messages and more.
Settings for Logged-In Users:
These settings are for those users who have registered as members but with a false intention or post spam stuff in the community. These include:
Remove admin roles and users from the member directory list
User profile completeness
Lock BuddyPress Activities
Hide Buddypress Primary Nav and more.
Member Group Settings: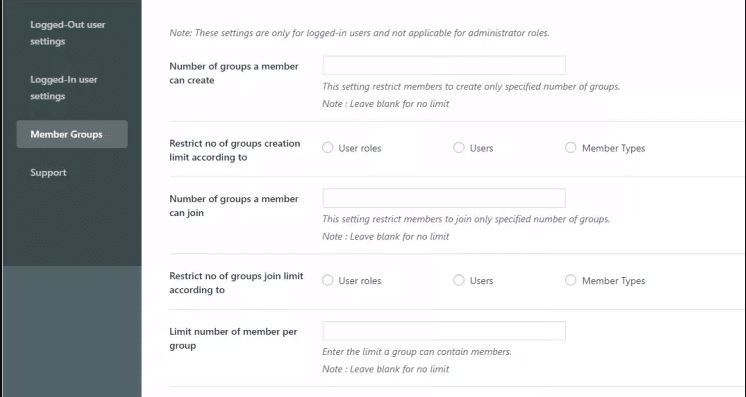 These settings involve restrictions with regards to group creation, group joining etc. It will keep control on group joining. This setting includes:
Number of groups a member can create
Number of groups a member can join and restrictions
Limit number of members per group and more.
We hope you found this article informative. If you have any suggestions for us, let us know in the comments below.
Interesting Read: How To Add Quotes To BuddyPress Website