Do you want to give your BuddyPress community members add reviews and ratings to BuddyPress groups? By default, BuddyPress does not allow you to add reviews for any group that has been created on your community.
When it comes to an online community, it's really crucial to get positive reviews as it can improve your business reach as well as improves member's trust on your community. Similar is the case with BuddyPress community groups. Allowing your users to add reviews for BuddyPress groups can be really effective for your business. In this article, we will tell you how you can allow your site members to add reviews and ratings for BuddyPress groups.
How BuddyPress Reviews Impact Your Community
If you are a business with an online presence, creating a social community of all your members can be really crucial in building your business credibility.
Having great reviews on your social network can instantly increase your chances of getting attention from more and more users. It will also interact with more members to help you join as existing reviews will build trust among them.
BuddyPress groups are created to share information related to a specific topic. It's exactly like Facebook groups where members can join the group and post related stuff on it. Allowing your BuddyPress members to add reviews and ratings for the group not only improves group interaction but also builds your member's trust.
Benefits Of Displaying Reviews On Your Website
1. Improved User Interactions
2. Increased Retention And Engagement
3. More Popular Community
4. Builds Members Trust
Adding Group Review Feature To Your BuddyPress Community
Let us now move forward with integrating reviews feature on your BuddyPress powered social media website. First thing, you will be required to do is install and activate the BuddyPress Group Reviews plugin. You can see this guide on How to install BuddyPress Group Reviews Plugin.
Once installed and activated, you can configure its settings to allow your site members to add reviews for a particular BuddyPress Group. You can visit its general settings via Dashboard> Reviews> BP Group Review Settings. Here you can set your criteria and other settings. These include:
1. General Settings: Here you can configure basic review settings such as:
Enabling multiple reviews to allow a user to send multiple reviews to the same group.
Enable auto-approval of reviews
Reviews that you want to show at most
Enable BuddyPress Notifications
Enable Emails
Select groups, you want to exclude from reviews
Next Setting is Criteria that allows you to set criteria for the review. You can add multiple rating criteria as well.

The third setting is a shortcode that offers a simple shortcode to display the Group Review Form. All you need to do is paste the shortcode on the page where you want to display review form and publish it.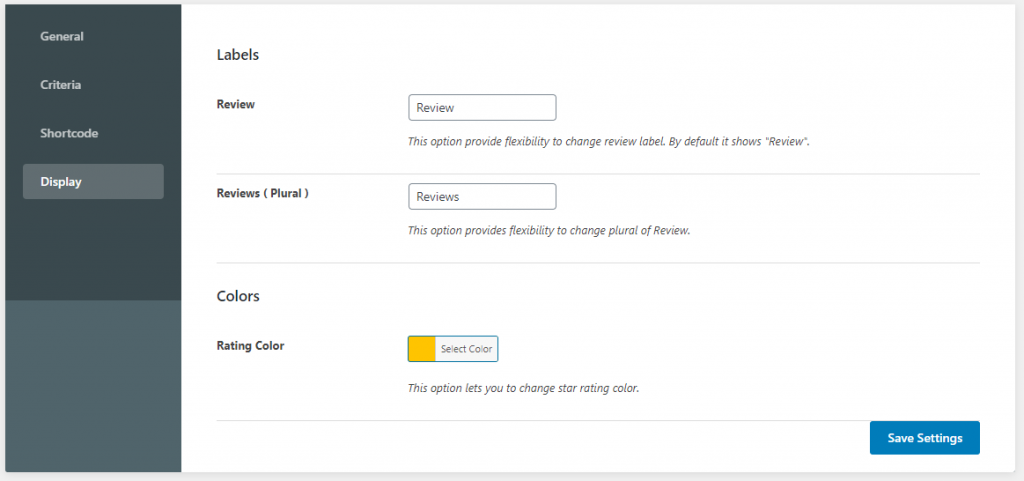 Next up is Display settings that allow you to customize the label of review, and color of rating as per your choice.
Once you have configured all the settings, just save them.
Add Reviews to Groups
Now we will move forward with adding reviews for groups.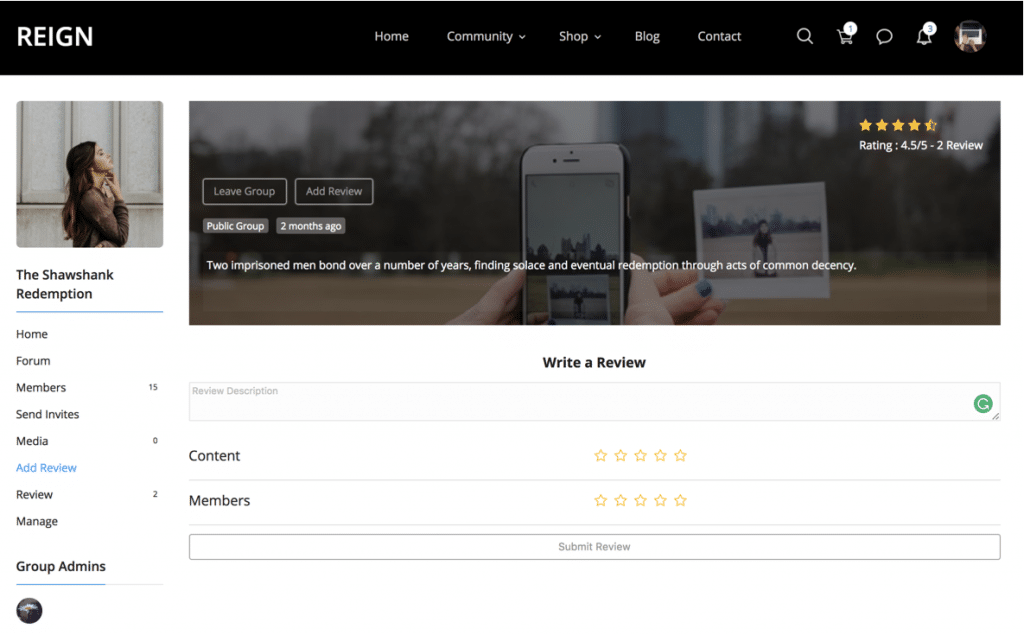 1. To add a review, When visiting the "/groups" section in the site, go for single group view page, there you can see a menu namely, "Reviews" that will allow you if you are a site member to add group review.
2. Once added, all the reviews will be visible on the Review tab in the particular group.
And you are done. Now simply allow your site members to add ratings and reviews to your BuddyPress groups.
Download BuddyPress Group Reviews For Free
We hope you found this article informative. Please let us know your suggestions in the comment section below.
Interesting Read: How To Redirect BuddyPress Members After Login In WordPress?