Do you own a BuddyPress website and want to add a check-in feature to it? Check-in feature has become really famous as it allows users to update where they are, what they are doing and at what time.
In this article, we will show you how to easily add check-in feature on your BuddyPress powered community website.
Benefits Of BuddyPress Check-in Feature
A user can check-in to a business by clicking on the check-in option on their social network. Check-ins can be done via mobile as it offers more accurate location tracking.
If you have a BuddyPress website, then utilizing the check-in feature can be really beneficial for you. Giving your community members the ability to post their activity and add an exact location on a map, can not only improve your site's engagement but can also result in increased traffic of your site. Also, it allows members to interact with each other about a particular place. Also, their fellow community friends will come to know where they currently are and what they are doing.
Check-in can be beneficial for your community in the following ways:
1. Improved Members Interactivity
2. Improved Member Retention
3. Increased traffic
4. New Audience to Reach
5. Word of Mouth Marketing

How To Add Moderation Features To Your BuddyPress Community Website
Adding Check-In Option In BuddyPress
Let us now move forward with adding check-in option to your BuddyPress website. For this, we will be using BuddyPress Check-ins plugin which is a dedicated BuddyPress addon and available for free in the WordPress repo.
Using this plugin, you can easily allow your site members to check-in while doing a post update. Just like Facebook, you can allow them to add places on a map where they have visited.
First thing you need to do is install and activate BP Check-ins plugin.
After the plugin has been activated, you need to go to Dashboard>BP Checkins> Settings
You will find a few options in General Settings that you will be required to configure. These include: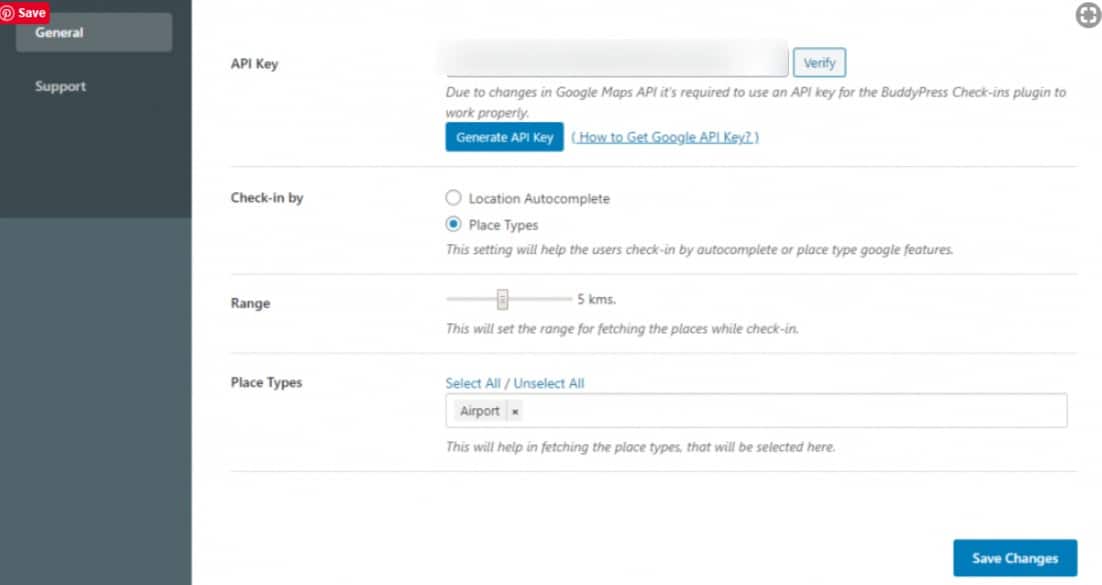 API Key: Add the API Key for Google Maps Location feature.
Check-In by: With the help of this setting, you can allow your users check-in by Location autocomplete feature or places types.
Range: You can also set the range for fetching the places while check-in.
Place Types: If you select check-in by place type, you can add place types that you want to be fetched. You can know in detail here.
How to use check-ins options at frontend?
Once all the settings have been updated, a check-in feature will appear when you will update any post. If Location Auto-complete is set, Start typing your location and select from the suggested location.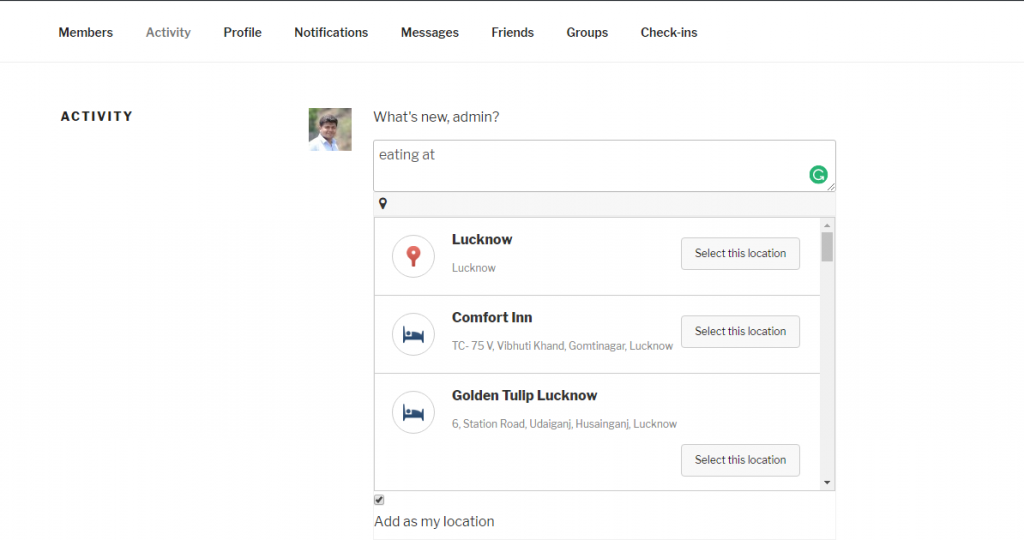 With Place type selected, you will get suggestions of nearby places which you can select and update as your location.
That's all. Just like social sites like Facebook, this plugin lets users add their location while posting activity updates. It's a very useful plugin and also convenient to install.
Interesting Read: