In the recent few years, we have seen drastic changes in the learning industry. With the further evolution of the internet and social media, most of the learning shifted online. Whether it is Harvard University, MIT, the University of Pennsylvania, and many more, all the big names are focused and dedicated to making eLearning better than ever.
You can enroll in various online courses from this university from online platforms like edx and coursera. Not only that, but individual instructors are also making their names and enhancing the skills of thousands of students by teaching online on their eLearning platform or platforms like Udemy or Udacity.
The thing is that if you have expertise in a subject or have a polished talent, you can easily teach it to hundreds and thousands of knowledge-hungry individuals. The only thing you need is to have an online platform. Not only that, but you can also team up with others like you and create a multi-instructor, multi-course platform and grow big. This all can be done very quickly using the world's best Content Management System (CMS) WordPress as your website partner.
What is WordPress?
WordPress is the world's largest CMS platform used by more than 40% of websites, whether eLearning platforms, ecommerce websites, social media websites, and many more. Some of the big names in the learning industry using WordPress as their partner are the University of Washington, RenWeb, Bionic Turtle, Michael Hyatt Courses, and many more.
WordPress is a free-to-use and open-source CMS that makes it very flexible to use, and you can use it any way you want.
There are some costs that you have to incur; though the core WordPress is free, these costs are:
Hosting service
Plugins and add-ons (Free and premium)
Themes (Free and premium)
How will WordPress help you in creating an eLearning platform?
The advantage WordPress has over others is that it is highly flexible and modifiable. You can create an online platform you want using WordPress. The only thing you need is to choose the right plugins and theme and a few clicks here and there.
The plugin you need to create an online learning platform is a Learning Management System (LMS) plugin.
What is LMS?
LMS is software that helps you to create and manage courses. It creates a secure interface and environment for instructors and students for content delivery and management. With the help of LMS, providing assignments, creating quizzes and assessments, tracking students' progress become hassle-free.
What to look for in an LMS plugin?
There are many features that a good LMS will have; some of them are:
This is the core feature for every LMS plugin. It must help its users create clean and structured courses and provide multiple functions for doing so.
This LMS feature will help you manage students in many aspects, such as managing and securing personal details of students, information about the courses they are enrolled in, their membership status, payments, and much more.
Progress Tracking and reporting
You and your students get to know about the course progress, their status, and much more, which helps students engage more.
Allows you to add assessments and quizzes to each part or chapter quickly. This helps students to assess themselves to make improvements and keep them motivated.
When a student successfully completes a course, a certificate of completion is allotted to them. A student must get a certificate of completion as it may help in their professional endeavors.
E-commerce integration helps you sell your courses online, managing sales and taxes, coupons and discounts, and much more.
There are many LMS plugins for you to choose from; here are the few top ones:
LearnDash
LifterLMS
LearnPress
SenseiLMS
Tutor LMS
Here, we will discuss the LMS plugin available on WordPress, i.e., LeardDash, and its alternative LifterLMS.
LearnDash LMS plugin
LearnDash is the most popular WordPress LMS that allows you to create and sell courses, manage students, track reports, and much more. It has a robust and user-friendly interface that allows users to maximize content delivery in a structured way.
LearndDash features
1. You can create beautiful, structured, and impressive courses with the help of LearnDash LMS functions like:
Drag and drop course builder
Dynamic content delivery
Drip feed lessons
Providing a variety of perquisites
2. It is easy to engage learners by using features like:
Automated notifications
Badges and certificates
Awarding course points
Integrating discussions forums
Giving assessments
Taking assessments and quizzes
Creating leaderboards
3. Easily manage sales by:
Integrating WooCommerce
Setting up the type of purchase, i.e., one-time purchase, subscriptions, etc.
4. Third-party plugin support like BuddyPress, Mailchimp, GamiPress, and many more.
LearDash Pricing
Basic: $159/year
Plus Package: $189/year
Pro Package: $329/year
What theme to use with LearnDash?
When installing a plugin to a WordPress website, choosing the right theme for it is important. It will make all the difference. A theme supports the plugins and add-ons and provides a proper layout, designs, typography, color schemas, and much more to your website that make UI user-friendly, fast and responsive. The best theme for the LearnDash plugin is the LearnMate LearnDash theme developed by Wbcomdesigns that comes loaded with different layouts and features.
LearnMate LearnDash theme features
You can design the complete website within a few minutes by importing and downloading the demo.
LearnMate LearnDash theme comes with a powerful page builder so that you can input your creativity as you want.
Many options will help you to customize shop page layouts that will give users a genuine browsing experience.
Multiple course layouts for making courses fun and attractive to students.
Easy integration with WooCommerce, Stripe, bbPress, BuddyPress, and many more third-party plugins.
Distraction-free reading and dark mode option for the users to fully immerse in the course content.
Their variety of grid and listing options and multiple header variations, multiple single course layouts, typography, theme skins, and much more.
You also get a Course Review feature that collects testimonials from students. Again, this is a great way to increase your sales.
These are only some features of the LearnMate LearnDash theme. The theme has many other useful functionalities that will make the managing of your eLearning platform easier than ever.
Some must-have add-ons for LearnDash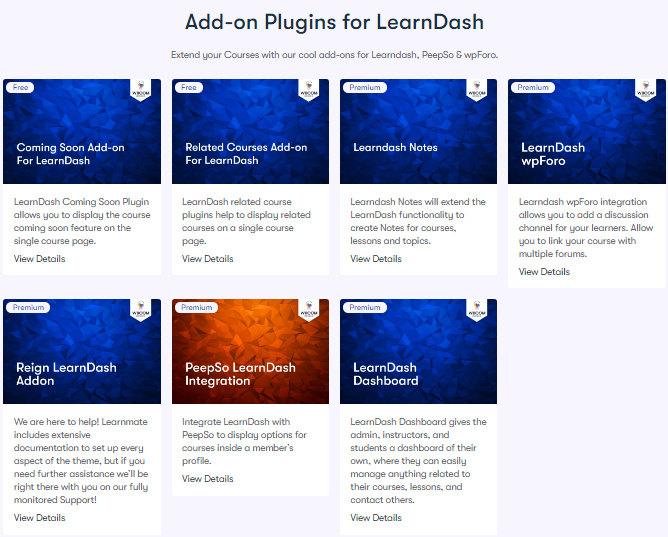 The add-ons further extend the capabilities of the plugin by adding additional and useful features to it. Some add-ons that will extend the LearnDash capabilities and increase the students' interactions and help you create a differentiation are LearnDash Notes and LearnDash DashBoard.
LearnDash Notes: The LearnDash Notes will extend the LearnDash functionality and help admins, instructors, and students to create real-time notes. Not only that, an instructor can easily give their feedback on the student's note. In addition, admins can easily display notes to specific user profiles using shortcode.
LearnDash DashBoard: LearnDash Dashboard will provide admin, students, and instructors a dashboard of their own, where they can manage everything related to their courses and more.
You can also try out other LearnDash add-ons.
LifterLMS
LifterLMS also helps you to create online courses easily and seamlessly. It is an easy-to-use platform with all the necessary functions like course delivery, course management, student management, progress tracking, ecommerce integrations, and much more. As a result, it is a close competitor of LearnDash.
Pricing
Individual Add-ons: $120+/year
Universe Bundle: $360/year
Infinity Bundle: $1200/year
Theme to use with LifterLMS
The LearnMate LifterLMS theme is one of the best-suited themes for the LifterLMS plugin. It integrates and supports LifterLMS in a structured way. Since it is also a theme developed by Wbcomdesigns, it has about the same features and ease of use as in the LearnMate LearnDash theme.
Best alternative for the LearnMate LearnDash and the LearnMate LifterLMS theme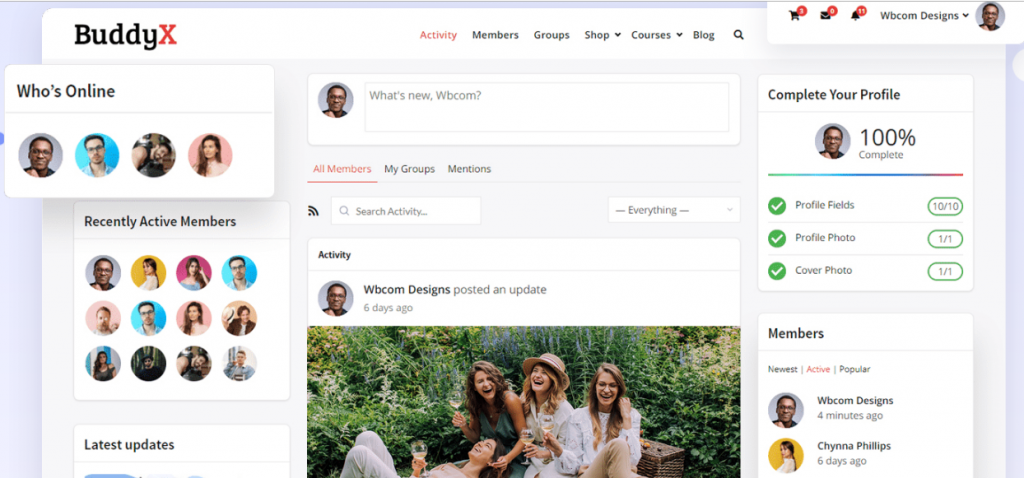 The BuddyX theme is the best alternative to both the LearnMate LearnDash theme and the LearnMate LifterLMS theme. It is a theme based on the WordPress community plugin BuddyPress and is best suited for many types of platforms like eLearning, job portals, ecommerce, and many more. Not only that, it is compatible with other LMS like SenseiLMS, TutorLMS, and LearnPress.
BuddyX is a free WordPress theme, which also comes with a Pro version.
BuddyPress Demos
Conclusion
You don't need to spend thousands of dollars per year on managing an eLearning portal; using WordPress is cheap and efficient. Moreover, with a large community, you can easily find answers to any questions. Other than that, there are a thousand WordPress developers like us out there dedicated to making WordPress even better.
At present, 40% of the internet is running on WordPress and continuously increasing, so there is no doubt that WordPress is the best choice for an eLearning Platform as well. Using WordPress requires very little technical knowledge, but your priorities change as your business grows, and you have to hire a WordPress developer.
So, anytime you need a hand with your eLearning website, plugin integration, or development, you can easily contact us. We will be happy to help.
Interesting Read:
20 Best WordPress Community Themes In 2020
How To Add Social Network Features In Your WordPress Site?
5 of the Best Local WordPress Development Tools Compared for 2021