Do you want to add a repeater field feature on your BuddyPress powered website? BuddyPress by default allows you to add extended profiles for site members which they can manage on their own. But BuddyPress does not offer them the feature to add repeater fields which means add more than one extended profile fields or xprofile field.  Today, we will tell you how you can add repeater fields on your BuddyPress profile.
Additional Features To Enhance Your BuddyPress Site
BuddyPress is one of the highly flexible and incredible WordPress plugins that offer a variety of features to create a fully-featured social networking website with WordPress.
However, there are certain extended features that you can also add in your community website and one such highly requested feature is related to BuddyPress xProfile fields of users.
There are certain extended fields like education details, phone number, email address, skills which are more than one in number and require repeater fields. To visualize this, you can look at your Facebook profile that allows you to enter as many educational details, work history and contact details under different subheadings. This is exactly what is required on a BuddyPress community website.
For this feature, BuddyPress only the core features by which you can include only a single detail for all the data without any groups. But there are many a time such as in a business community or in any job portal community website where a user needs repeated fields for information like skills, work experience, education details and others.
Not only this, some other advantages of having repeated fields and group fields include:
Neat and Clean Look
Better segregation of similar data
Better Lead Generation
Improved Connectivity and user engagement
Additional data collection
Easy management of user-profiles and similar data.
Enable Repeater Fields On Your BuddyPress Website
Now that you have understood the importance of repeater fields on a community website, let us now tell you how you can achieve this on your BuddyPress social network.
To do so, you will be required to install BuddyPress Profile Pro plugin which is a dedicated addon for BuddyPress that allows you to extend BuddyPress profiles with repeater fields and groups. With this plugin, you can easily add multiple field groups with repeater fields and display them on the user's profile.
Once the plugin has been installed, you can configure its settings. These include:
General Settings:
This setting allows you to add an autocomplete feature in group fields and repeater fields.
Group Settings:

This setting allows you to add a new group with settings like Group title, group description, repeater group and more.
Some default profile groups offered by the plugin include Education, Professional Experience and Contact Details.
Field Settings:
This setting allows you to add new fields with field title, field type, field group, repeater to make it a repeater field and more.
Frontend View: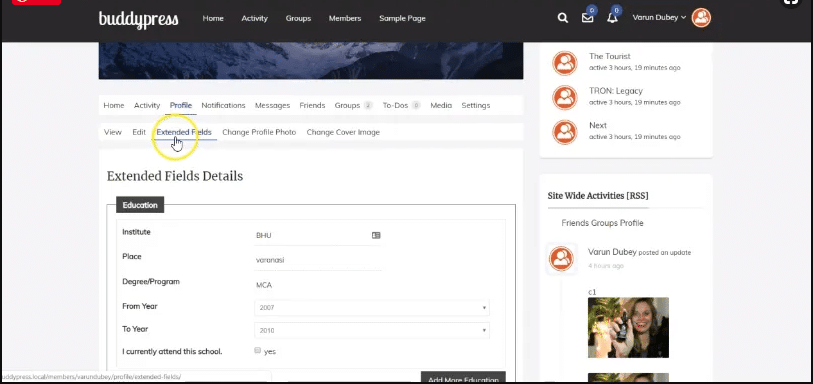 All group fields along with repeater fields will be visible on Profile Page of each user. A user can fill these fields and add as many repeater fields as they want for multiple details.
See the plugin live in action:
We hope this article will help you in extending your BuddyPress site features. If you have any suggestions for us, let us know in the comments below.
Interesting Read: How To Protect Your BuddyPress Community From Spammers?