These themes help you build a stunning website for promoting your services and land more clients. For creating a website to promote your services and land more clients, you may need a theme and for that, a list of some outstanding WordPress themes for freelancers are mentioned over here. Either you want to create photography or graphic design portfolio and even a personal website, these themes can help you do so. These themes include prebuilt website demos which can be easily imported into your WordPress site. These themes have numerous customization options which can be used to design your site the way you want.
WordPress Themes for Freelancers
Some of these themes have a detailed control panel making it simple for customizing all aspects of your site plus include drag and drop page-builder tools such as Visual Composer. If you wish to sell products and services instantly from your site, then take a look on WordPress themes for freelancers including better support for an eCommerce plugin such as WooCommerce. Also while setting your website, you can start customizing the way it's assembled and presented via the theme options control panel. Click on the links and install one of the themes now.
1. Divi
This theme includes all customization tools and options for helping you to create a stunning and personalized freelancer website. This theme is loaded with different layouts which you can import into your site. The layouts can be used freely as they are and combining them with one other for creating your designs or customizing them via the drag and drop page builder tool is easy. With this theme, you can start creating custom page designs for your freelancer site via an intuitive front end point-click user interface.
2. RyanCV
This theme is a resume or vCard theme and is best suitable for freelancers. For promoting yourself and your services online this theme is the best choice as it includes a ready-made design helping you instantly launch your freelancer website. The theme's design focuses on developers, designers and various digital freelancers but it is suitable for various types of freelancers as well and it is possible because it is quite flexible. Theme's templates and their sections help you to showcase your bio, your resume, and projects you have accomplished.
3. Oshine
It is an advanced portfolio theme focusing to help you showcase your visual work. This theme is best suitable for freelance photographers, graphic designers and illustrators. It has multiple portfolio layouts giving you the ability to find a design matching your creative vision. The theme includes full-screen sliders, a range of various grid layouts, dual carousels and multiple gallery styles allowing you to publish your images online. The theme is packed with a custom-built page builder tool allowing you to get creative with your site.
4. Dani
This theme is best suitable for every type of freelancers and their websites. The theme includes 7 homepage configurations which you can choose and each one of them aims at helping you publish your portfolio online. It depends on which demo do you choose, you can start greeting your visitors with a welcome text or end up setting your portfolio as the main thing they watch. It has various layouts making it an ideal choice for people who wish to showcase visual work. No matter if you are working with still images or video, this theme consists of numerous ways for presenting your content.
5. PILE
This portfolio theme has an original design and was released recently and is completely updated and revised and is on its version 2. If you select this theme then you are about to select pretested code base including all the latest and perfect web design features. This theme has only one main homepage layout and can be customized in various ways. Using its advanced layout builder tools you can instantly start creating the perfect layout for your website and its content.
6. Kudos
The theme is loaded with twenty-seven demos for your website and includes a homepage having several options best suitable for freelancers. You can easily import the demo content and the toughest part could be to choose which demo you should use for your freelancer website. Among the demos that are ideal for freelancers, the vCard, studio, portfolio and case study options are the perfect choices. The theme is quite flexible and tweaking any of its demos and prebuilt content is easy for matching your requirements.
7. Lobo- WordPress Themes for Freelancers
This is a freelancer theme including full eCommerce capabilities helping you for selling your work and services online. This theme is best suitable for you if you are a freelance photographer willing to use your portfolio for selling your best images online or even if you are a web designer willing to list site creation packagers for sale on your website. If you are offering physical or digital items to your audience for money then this theme would be an ideal choice for you. This theme has eCommerce functionality which is completely optional and can be easily turned off with a single click. Choose this theme if you wish to list your work and services for sale.
8. Manon- WordPress Themes for Freelancers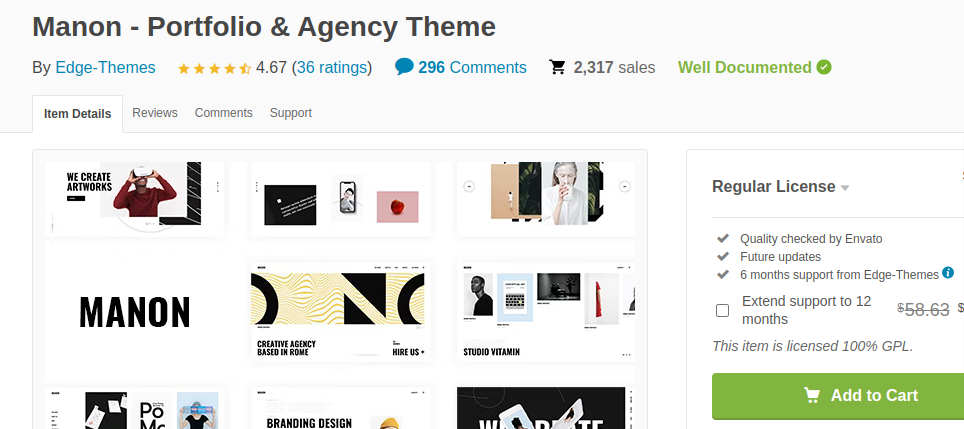 It is one of the best portfolio and agency WordPress themes which is best suitable for freelancer. Selecting a website demo will be appealing to a range of different freelancers and people willing to showcase their work or list out their skills, qualifications, and experience to land new clients. No matter the way you want to approach marketing your services online, this theme includes a pre-built website that is appealing. The theme is loaded with various online portfolio website demos and you can also select from options such as a minimal portfolio design, a design using the slider for showcasing your work and a split sliders showcase design.
9. Kalium
It is one of the best creative WordPress theme designed for professionals and is best suitable for freelancers. Including the selection of prebuilt demos, you will get a wide range of options. Although it is flexible photography, agency, and freelancer demo could be of specific interest to people going through this article. Furthermore, the theme includes thirty portfolio styles and no matter which demo you select, you can easily display your work using any of these layouts. There are a Visual Composers which helps you for customizing the portfolio and other page design plug providing you with the option to create your custom layouts.
10. Pillar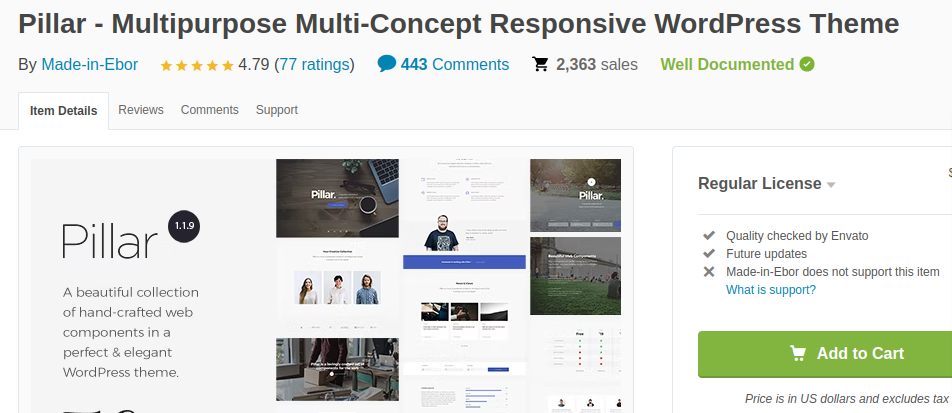 This theme has been updated recently providing you with more tools and options when it matter of creating your freelancer website with WordPress. The version 1.1.0 is out with which you can start customizing every aspect of your freelancer site. This theme includes 50+ theme options which can be accessed via the front end WordPress customizer interface providing you with a live preview of the changes you make. This particular setting lets you control all aspects of your website's typography plus font choices for every paragraph and header styles, text sizes, colouring, spacing and lots more.
11. Vangard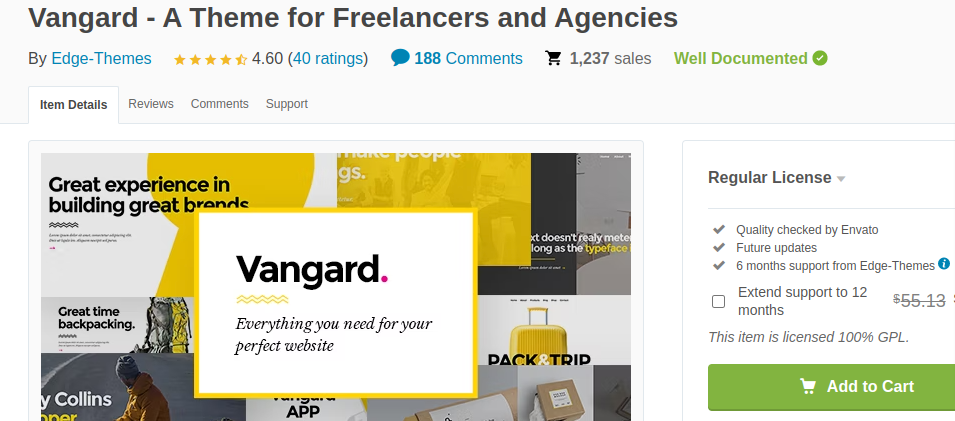 This theme has over fifteen different customizable homepage designs for your freelancer website. The theme provides a varied selection of website demos and can prove to be beneficial for freelancers. No matter if you offer services as a local provider or working online, this theme has various perfect designs that can be considered. It is true that not all prebuilt content aims at freelancers, but includes many relevant options which you can choose. The theme is packed with a drag and drop builder tool and you can easily adapt to any of the designs that are provided for various purposes if you find them.
12. Werkstatt
This theme has been designed for providing you with almost everything required for creating a professional freelancer website. Werkstatt is packed with every tool needed for creating a custom freelancer site using WordPress. The theme has a bundled Visual Composer plugin using which you can start designing layouts that's almost impossible while using a default WordPress Editor. You can easily put any relative Visual Composer content element in your custom pages. If you have no time or the ability for designing a custom freelancer website, then this theme has plenty of demos for helping you get started.
13. Pitch- WordPress Themes for Freelancers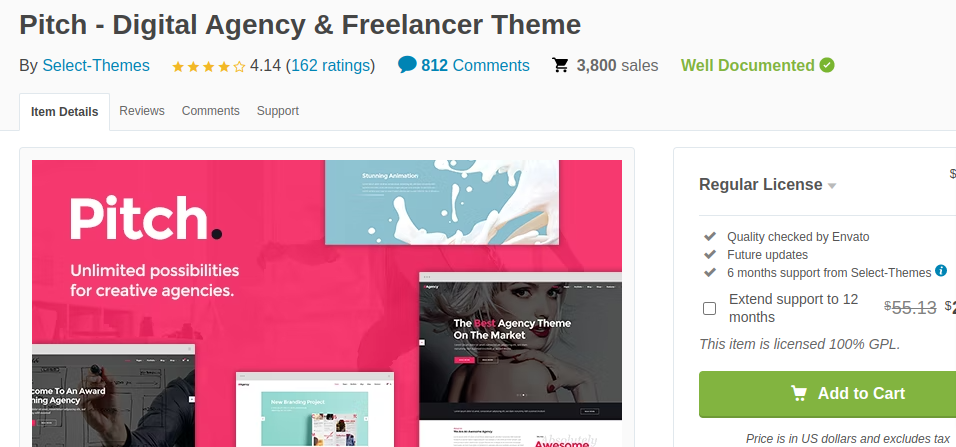 This theme is one of the best suitable Portfolio WordPress themes designed especially for freelancers and agencies. The theme includes quality features making it the best choice for creatives and people willing to leave a better impression on their visitors. Such effects include movable images, character animation and text-decoration etc. If you don't find it appealing then you can also go for the Pitch demo. With outstanding animation and navigation effects, this theme is offering much more to you. The theme is packed with twelve homepage modes which you can choose.
13. Elements
This theme is loaded with quality features and several tools plus various setting for helping you build a custom freelancer site with WordPress. The theme provides a varied selection of website demos including some options that are suitable for freelancers. Irrespective of the kind of freelancer services you offer, the portfolio demos help you in promoting your business in a unique style and also converting more visitors into customers. Every demo can be easily imported to your WordPress site with one single click. Install now
14. Adios- WordPress Themes for Freelancers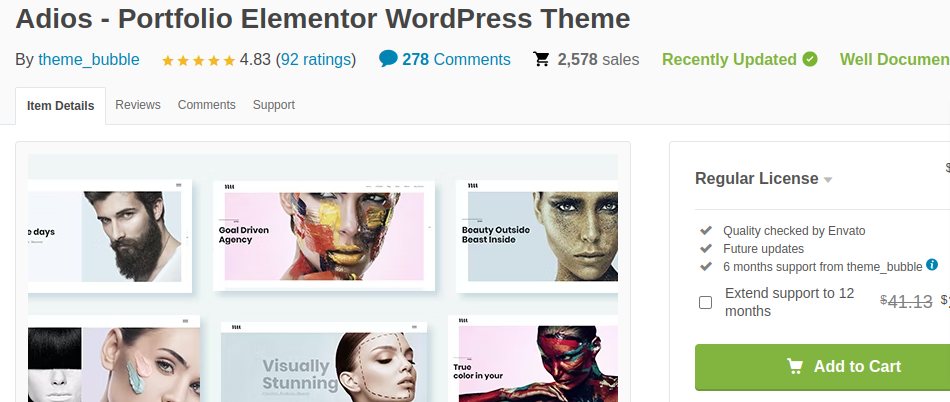 This is the most suitable option for creative artists and you can use this theme for building your freelancer site. This theme includes stunning demos appealing people seeking something unique for their project. The theme provides a varied selection of content layout modes for the creative use of animation effects and white space. Apart from its nine homepage demos providing you with numerous options, you can also start creating your own. Using the Visual Composer drag and drop tool you can instantly start assembling your layouts from the modules and elements available.
15. Assemble
This theme is another one in the list designed to create freelancer websites with WordPress. Credit goes to the theme's 18 stylish homepage demo, you get numerous options while you set up your site. It depends on which demo you select, your freelancer site could approach new visitors having a welcome text, and an introduction based on your business. Various homepage options have displaying carousel of your unique content, showcasing your work in a full-screen slider, or providing your personal information and those of every team member you are dealing with.
16. Milano
This theme is an ideal choice for freelancers who are not willing that their website should not create any distraction for their visitors from their portfolio content. The theme has outstanding demos. Few of them are focused on freelancers but the rest of them are best suitable for agency websites. No matter which demos you select, you can easily customize it via the Visual Composer page builder toll and various theme options plus settings. The theme has intense support for the WooCommerce online shop builder plugin.
17. Brando
It is one of the best multipurpose themes focusing on helping you build every type of website with WordPress. The ten demos are following one-page homepage layout which means that the front page of your site is including sufficient information and content for helping you visitors get an idea about the services you render. You can select the agency demo to build a website for promoting your skills and services online. You can select the personal demo too.
18. Rubenz
This theme is best suitable for freelancers plus is one of the most creative portfolio WordPress themes. This theme can prove to be beneficial if you render visual services like illustration, graphic design and event videography. While you set up your website, the theme provides you with various homepage layouts to select for your online portfolio website. Along with the homepage templates, there are layouts having sliders, outstanding half screen layout plus grid designs.
19. HyperX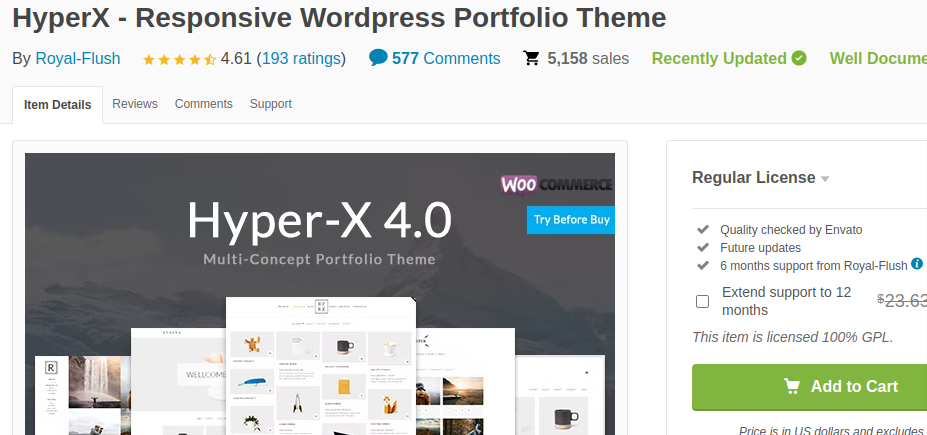 his theme can help in creating a stunning online portfolio site for your freelance business. It also includes demos which will match with your requirements. You can also personalize such demos via its customizer. With the help of this tool, you can start customizing every aspect of your site. You have full control over the various sections appearance and will have full access to work via a live and front end-user interface. This theme includes an online demo for demonstrating its flexibility.
20. Cookie
he theme is a good choice for creative seeking style and functionality. This theme is packed with nineteen demos helping to give your site a stunning look and feel. You should know that every cookie demo includes a powerful blogging element, making it an ideal choice for freelancers willing to share daily updates regarding their industry, nature of service and everyday's life. The theme provides complete support for helping you to start selling your services and accept payments online. Wait for no further and install now.
Now promote your services online
You can install the above-mentioned themes for creating a freelancer website with WordPress. These themes have numerous features and give you the ability to personalize demos through their customizer. These themes have prebuilt demos which can be easily imported into your WordPress site. Make a decision and get started.
---
Interesting Reads:
7 Best WordPress Membership Plugins
Top BuddyPress Hosting Providers